Display Polyester
Suitable for both indoor and outdoor uses, our Display Polyester is scuff-resistant and washable.
Our 210gsm Display Polyester is our top rated & most versatile material for use across different items from exhibition graphics, silicone edge graphics, display frames, retail graphics and even tablecloths.
The Display Polyester is printed with a dye-sublimation process which uses special inks and undergoes a post-print heating process to fix the ink into the fabric. This makes it scuff-resistant and washable with vibrant colours and images. Our Display Polyester is also M1/B1 fire-rated to comply with UK and European fire safety standards.
As standard we can finish your graphic with various finishes from stitched hems, eyelets, velcro hems and pole pockets at no extra charge.
The maximum width we can produce is 3000mm (depending on chosen finish) with a roll width of 3200mm.
Artwork
For any Display Polyester items, 50mm bleed must be supplied. This allows for any extra material required for hems, as well as shrinkage and movement when printing and cutting.
Please Note
While Display Polyester is a tight-knit fabric, some light show-through is possible when light sources are behind the fabric.
Display Polyester items are supplied folded in polybags. Any creases can be ironed out or will drop out when the fabric is tensioned.
Our thread colours are black or white. Our production team will choose the most appropraite colour to complement your graphic.
Currently we can only print up to 3.2 metres (10ft 6in) on the shortest edge, to our standard pricing. Flags above this size will require a bespoke quotation.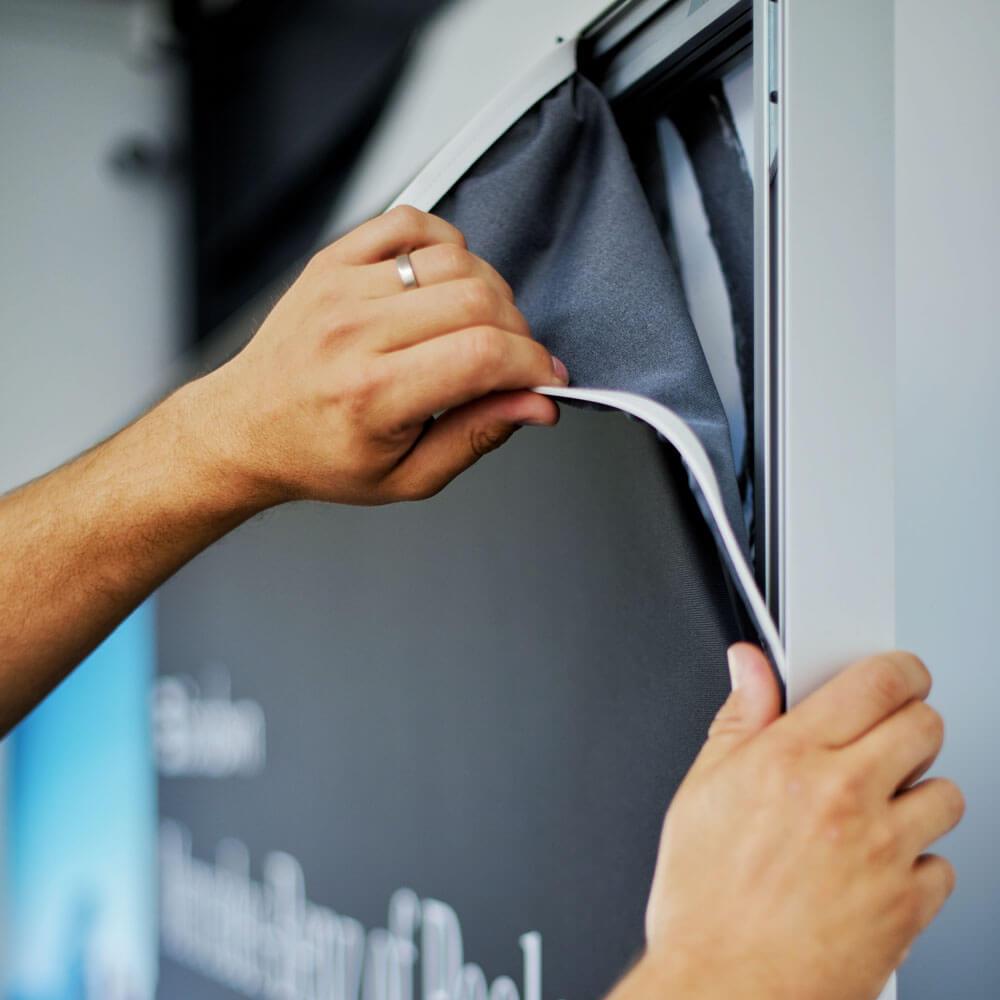 Finishes for Display Polyester
Stitched Hems & Eyelets

Graphics will be given a stitched hem, then eyeletted at equal distributions along the hem. Eyelets are clear plastic.

The standard distribution of eyelets is one per metre. If you require a different distribution or specific placement of eyelets, that is no problem at all - simply let us know what you need when you place your order.

There is no charge for this finish.

Stitched Hems Only

Graphics will be given a stitched hem.

There is no charge for this finish.

Stitched Hems with Velcro

Graphics will be stitched to a strip of either hook or loop edging. Please specify which is required when ordering.

A variety of widths are available - please contact us to discuss your requirements.

Black or white strips are available. Our sewists will choose the most appropraite colour to complement your graphic, unless specifically requested.

There is an additional charge for this finish.

Pole Pocket(s)

A pocket is added to the edges you require to allow a pole to pass through and support/tension the banner.

The diameter of the pocket can be specified by you, however, if you let us know the diameter of the object to go into the pole pocket we can calculate the size of the pocket for you.